In case you didn't hear @kellebelle1981 my fellow man meat expert saw the real thing up close and personal! She went right by this next piece of man meat and never noticed! Blasphemy!
Celeb Man Meat Blog meet Dougray Scott
Hello, there handsome!
How U doin?
I can't believe my fellow man meat expert walked right by you and didn't notice! Shame, shame! kellebelle!
Anyhoo, for those of you who don't know who the hell this guy is have you ever seen this:
Ever After with the lovely Drew Barrymore, but more importantly, Dougray Scott as the charming prince
I don't know about you, but I was kinda hoping he would kill Tom Cruise's character in Mission Impossible 2. I never could understand why that chick in the movie liked Tom instead of man meat morsel above...huh?
I must always have my black and white pic of all man meat...it's my thing...duh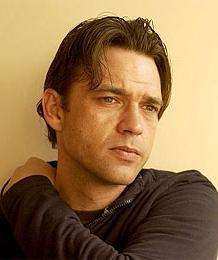 Not the best pic I'll admit, but he's still hot, and I'm gonna ask Kellebelle if he is even hotter in person which most stars either are or they really aren't I'm thinking the first one....yep
and hotness...hotness...hotness
The End....